Last Sunday, on March 11th, English professional golfer Matt Wallace managed an impressive feat: he claimed his second European Tour title after winning on the extra hole against Andrew "Beef" Johnston at the Hero Indian Open in New Delphi.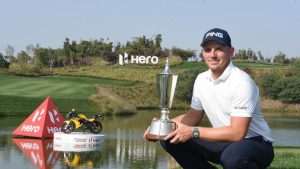 He obtained the victory in a dramatic play-off that took place at the DLF Golf and Country Club, a tough course in Wallace's opinion, and he hopes this is the "start of a few big things" he has had in mind since the beginning of this season.
At the start of the day, Wallace was an overnight joint-leader along with local favourite Shubhankar Sharma.
On the first extra play-off hole, Wallace hit a huge drive down the 18th, which rolled 15 feet from the flag. Then, Johnston's birdie seemed to send the ball into the hole, but it just sent it spinning around it and, in the end, it stayed out, giving Wallace great hope. A superb second shot onto the putting surface and two putts later, Wallace had the new title under his belt.
"After being three over after eight holes on the opening day, I've played some of the best golf of my life and to do it in that style at the end there capped it off," the 27-year-old golfer declared.
This represents the second win in no less than 32 appearances for Wallace, after his victory at the Open de Portugal at Morgado Golf Resort in May last year on his fourth European Tour event.
Matt Wallace is an outstanding golfer in his home country, as he represents Moor Park Golf Club in Hertfordshire. Other accomplishments for the Englishman include winning six tournaments on the Alps Tour in 2016, including five consecutive ones, third place in the Barclays Kenya Open in 2017, and as mentioned above, the Open de Portugal title, which had brought him to number 127 in the world rankings at that point.
The recent win in New Delphi moved him up to 14th place in the Race to Dubai, while on the Official World Golf Ranking, he now stands at 94 and his quest to climb up the golfing ladder continues.