The PGA Centenary course at Gleneagles in Scotland is the place where history will be made this year, as the venue is set to host the very first European Golf Team Championships as part of Glasgow 2018 European Championships.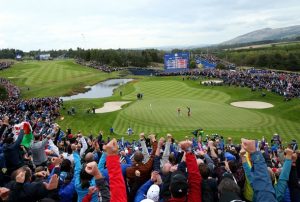 The event will take place between the 2nd and  12th of August 2018 and will be a world premiere for golf fans, as some of the best male and female professional golfers from Europe will compete together for equal prize money in a mixed tournament backed by both the European Tour and the Ladies European Tour.
Besides golf, the new multi-sport event jointly hosted by Glasgow and Berlin also includes mixed teams from the existing European Championships of athletics, gymnastics, aquatics, cycling, rowing and triathlon. The European Golf Team Championships, though, is the only new event added this year and will mark a memorable moment in sporting history.
There will be men's and women's events, as well as a groundbreaking mixed team competition. More precisely, 16 teams of two players representing their respective countries will compete in the individual events for men and women and then they will mingle for an 18-hole round.
The Championships will be played in two different formats, as follows: the individual competition will be Match Play events, while the mixed team round will be Stroke Play.
For those new to the game, we will mention that in Match Play, each hole basically represents a separate competition, so golfers will play head-to-head and the lowest score will win on each hole, while the player who wins the most holes is obviously victorious.
Meanwhile, in stroke play, the cumulative score for each player over the course of 18 holes is what matters, with the player managing the fewest strokes winning the match.
In Glasgow, a maximum of three teams will be able to represent any country in each event, and qualification will take into account ranking points from tournaments finishing between July 10th, 2017, and July 9th, 2018.
Going back to the venue hosting this historic event, Gleneagles features some of the best golf facilities not only in Britain but also in the world, with the PGA Centenary being the newest of three outstanding championship courses and one of the most iconic in Scotland. It was designed and built by Jack Nicklaus, and in 2014 it hosted the Ryder Cup where Europe managed a historic win over USA.