The average golfer usually walks around five miles per hour, so it is very important that they feel comfortable in their shoes so that they can concentrate on their game. The best golf footwear must fit you perfectly, keep your feet warm and dry, but also provide traction during your swing and while walking the course.
Choosing the right pair of golf shoes is not an easy task, so here are some tips to help you find the perfect fit for you.
Firstly, decide what shoe size you need by checking other regular shoes you own, so that you know what size you need to try on. Then determine the sum of money you are willing to invest in the golf shoes and decide what shoe style you want – dress-style shoes, traditional shoes, athletic shoes, spiked or spikeless shoes, or maybe golf sandals.
Spiked shoes give golfers more grip on the course and are great for wet or hilly golf courses. On the other hand, spikeless shoes are more versatile and lightweight due to their flexible soles.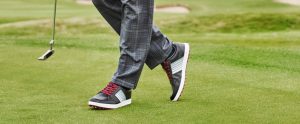 Golf shoes prices generally range between £50 and £200 plus. Make sure to weight how much golf you play when deciding the amount you want to spend on a new pair of shoes, but do not cut on quality by settling for a cheaper pair, as poorly made footwear can result in blisters, as well as sore and aching feet, which in turn could reduce your concentration on the course.
Comfort is a very important factor as it allows you to stay focused on the game, so make sure that the shoes you choose fit snugly on your feet, you are able to wiggle your toes and you don't feel any pressure on the top of your feet.  The best pair must be lightweight and flexible, but also offer you stability. Try as many pairs as you can until you consider you have found the one for you. If it's possible, you should test them while swinging and hitting some balls to see how they feel.
Another important thing is to make sure that your golf shoes are suitable for all the seasons. This means the best pair will be waterproof and will ideally include moisture-repellant material on the exterior.
If you make an informed decision when purchasing new golf shoes, they will help you with the correct posture while playing and could make the difference between a mediocre golfer and a great one.