Surrey is like a paradise for British golf lovers as it has more golf courses than any other region in the UK. Actually, some of the best golf courses in the country can be found here, with no less than 115 golf clubs registered as members of Surrey Golf Union. From the plethora of options for golf players, we have compiled a list of the best courses you must visit.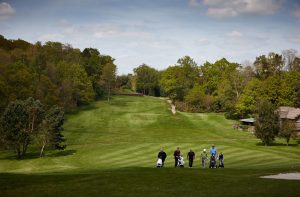 St. George's Hill Golf Club
Situated on one of the most desirable estates in Surrey, St. George's course is a golf gem that can rival any other venue in the country. Although it has a relatively simplistic design, which hasn't changed much since 1912 when it was envisioned by architect Harry Colt, this golf course appeals to many golf lovers, both beginners and professionals.
It features three separate nine-hole loops – the Red 9, the Blue 9 and the Green 9 – which players can mix and combine as they wish to obtain a round of 18. The terrain here is unique, as it winds and undulates like a rollercoaster, with plenty of elevation changes that make the game more challenging.
Wentworth Golf Club
This is an exclusivist golf club situated on the most expensive private estates in the country. It has three courses – East, West and Edinburgh – but it's the West Course that brought it so much popularity, being the most televised course in the UK as the home of the European Tour. Also, it hosted several important championships, like the World Matchplay (1964 – 2007) and the PGA Championship (since 1984).
Walton Heath Golf Club
Walton Heath features two neat courses, the Old and the New, both of which have been designed by Herbert Fowler in 1902. It is one of the most popular courses in England, hence it appears in almost every top, but it's not for the faint of heart, as its tough holes, strategically-placed bunkers and fast greens require high-quality play.
Its popularity also comes from the fact that it hosted many important competitions, such as the 1981 Ryder Cup, US Open Qualifying and the Senior Open Championship.
Hankley Common
Hankley Common is one of the toughest courses on which players can test their long-game abilities. It has a unique layout spread on a vast estate, measuring 6,702 yards off the back tees. What's special about its design is that players will stand on one hole and will have no idea where they will go next, as the rest of the holes are not in sight.   
Coombe Hill Golf Club
Constructed in 1911, Coombe Hill is a 6,401-yard par-71 course located just outside Wimbledon, less than half an hour from the centre of London. Though less popular, it's considered by many a hidden gem, providing a real challenge with its fast, sloping greens and strategic bunkering.
Sunningdale Golf Club
Sunningdale's Old and New courses have both been designed by Harry Colt and are located on the Surrey-Berkshire heathland belt. It's an exclusive world-class golf club, just like Wentworth, and arguably the best in Britain. Both courses have unique layouts, though the Old one seems to be more challenging with subtle borrows and slopes, elevation changes and an uphill goggle 18th that require high accuracy from players.
Brookmans Park Golf Club
Located in the beautiful Brookmans Park village in Hertfordshire, this is one of the finest golf courses in Surrey.  Founded in 1930, the club has an amazing woodland course that guarantees a challenging experience to players of all levels. Stunning views of the valley, the beautiful Mirror pond, the downhill drive among oak trees will make you come back every time you crave some golf adventure.