Golf has always been extremely popular, and its popularity has not stopped growing. It has always represented a game of prestige and entertainment for those who could afford it. In the past golf was not available and easily reachable for everyone. Only aristocrats and other rich people could afford to play golf and enjoy golf events. Nowadays, things have changed. People can play golf all over the world even in the comfort of their home, on the Internet. However, what kind of connection does a bingo game have with golf? Well, there are many bingo golf games you can play live or online. You can play online bingo games, bingo golf games, or you can play bingo golf games on the golfing course. Bingo and golf together make a good pair of fun and entertainment. For that reason, all of you who are interested in bingo and golf games read the following paragraphs and learn more about bingo golf games.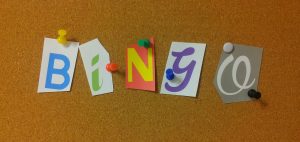 BINGO BANGO BONGO
Bingo Bango Bongo is probably the most popular bingo golf game ever. It is easy to play, however, this does not stop it to be one of the most interesting bingo golf games ever! Bingo Bango Bongo is a betting game. You get a point on each hole for each element of the game. So you can get three points on each hole. The number of players varies from two to four. You get a bingo point when your ball gets onto the green the first. Those who are the closest to the hole get the bango. And those who manage to hole out first get a bango. It is not complicated at all. This is one of the most interesting games for people who like golf betting games, so give it a try and you will not regret it.
BINGOLF
Bingolf is another interesting bingo golf game. This is a game where you show your skills and luck to the misfortune of your competitors. Your task is to match a set of scores which are randomly selected. In addition, you need to match strokes and sites on the golf course to the squares on the cards. These cards are called Bingolf cards. Once you complete a line vertically, diagonally or horizontally you win the game.
GOLF TERMS BINGO CARDS
This game is similar to bingolf. You give the card to each player and you call of the golf terms randomly. The player who has the word has to find the word and mark it. Once the player finds all the five words they shout "BINGO" and win the game.
We hope you will try these games out and that you will enjoy them a lot!